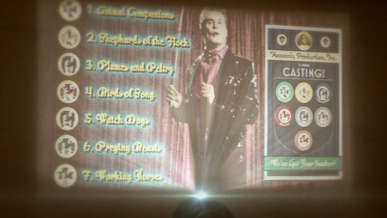 Heaven's Caste System is a numbering role system that Heaven uses to divide its residents. It is first seen in The Devil's Carnival: Alleluia!
There are seven castes in Heaven, One being the role of the highest honor, and Seven being the lowest role for the common working class.
The casts are as follows;
Animal Companions
Shepherds of the Flock
Plumes and Peltry
Birds of Song
Watch Dogs
Preying Beasts
Working Horses
1. Animal Companions
Edit
"One thy animal companions - At thy lap, prance with abandon"
Animal Companions are the top cast in Heaven- they are
God's
personal lapdogs.
The Agent
is the only Animal Companion shown in
The Devil's Carnival
, and he is very devoted to God and the laws of Heaven. God seems to care for his lapdogs - or at least The Agent - more than the rest of his animals. Everyone in Heaven seems to dream of someday becoming an Animal Companion, as seen when
Geraldine
says "Cheers to becoming a One, sisters!"
2. Shepherds of the Flock
Edit
3. Plumes and Peltry
Edit
4. Birds of Song
Edit
5. Watch Dogs
Edit
6. Preying Beasts
Edit
7. Working Horses
Edit